This month's newletter is all about PF456 and this summer's re-releases of Wire's classic "Send" era material in new formats all of which is now available in the pinkflag shop from July 30th 2021. Available to pre-order NOW.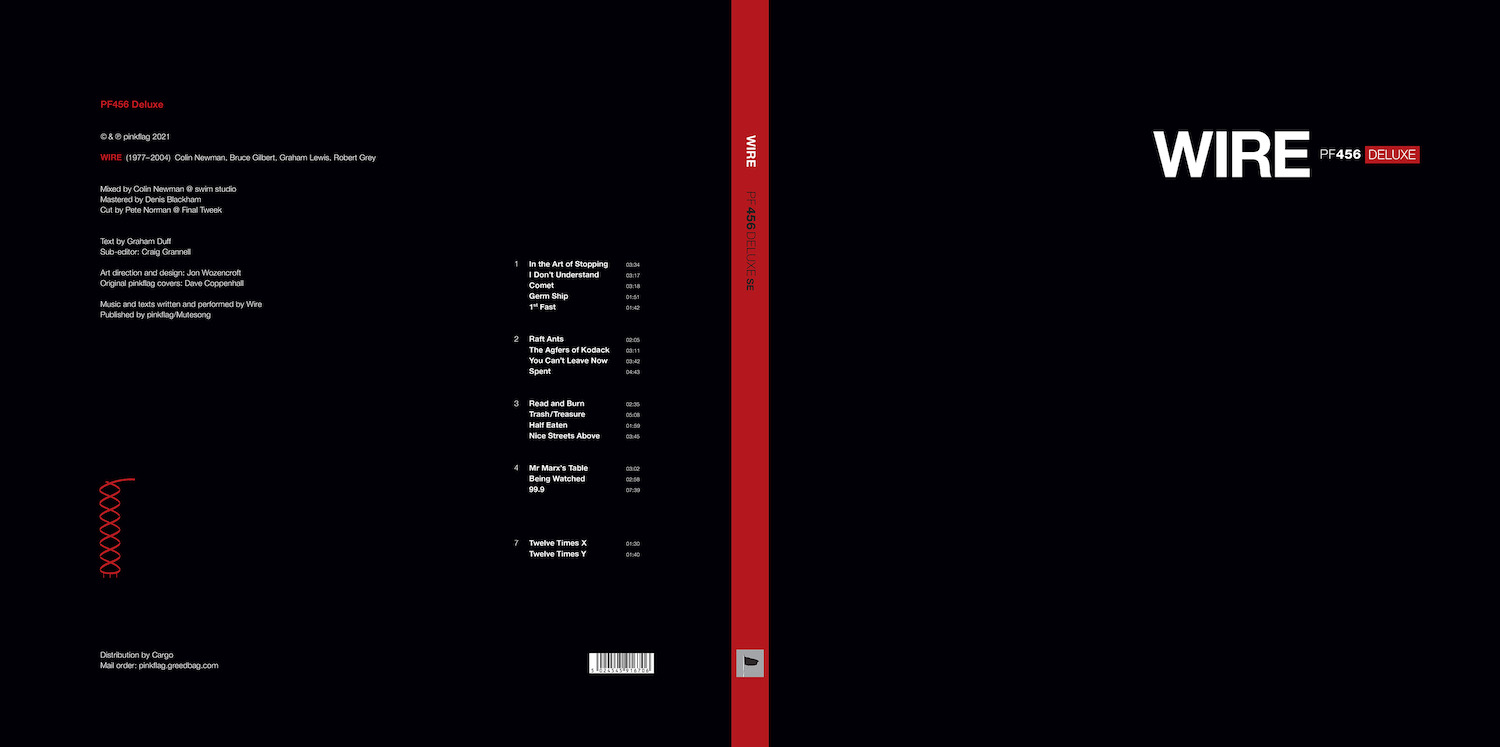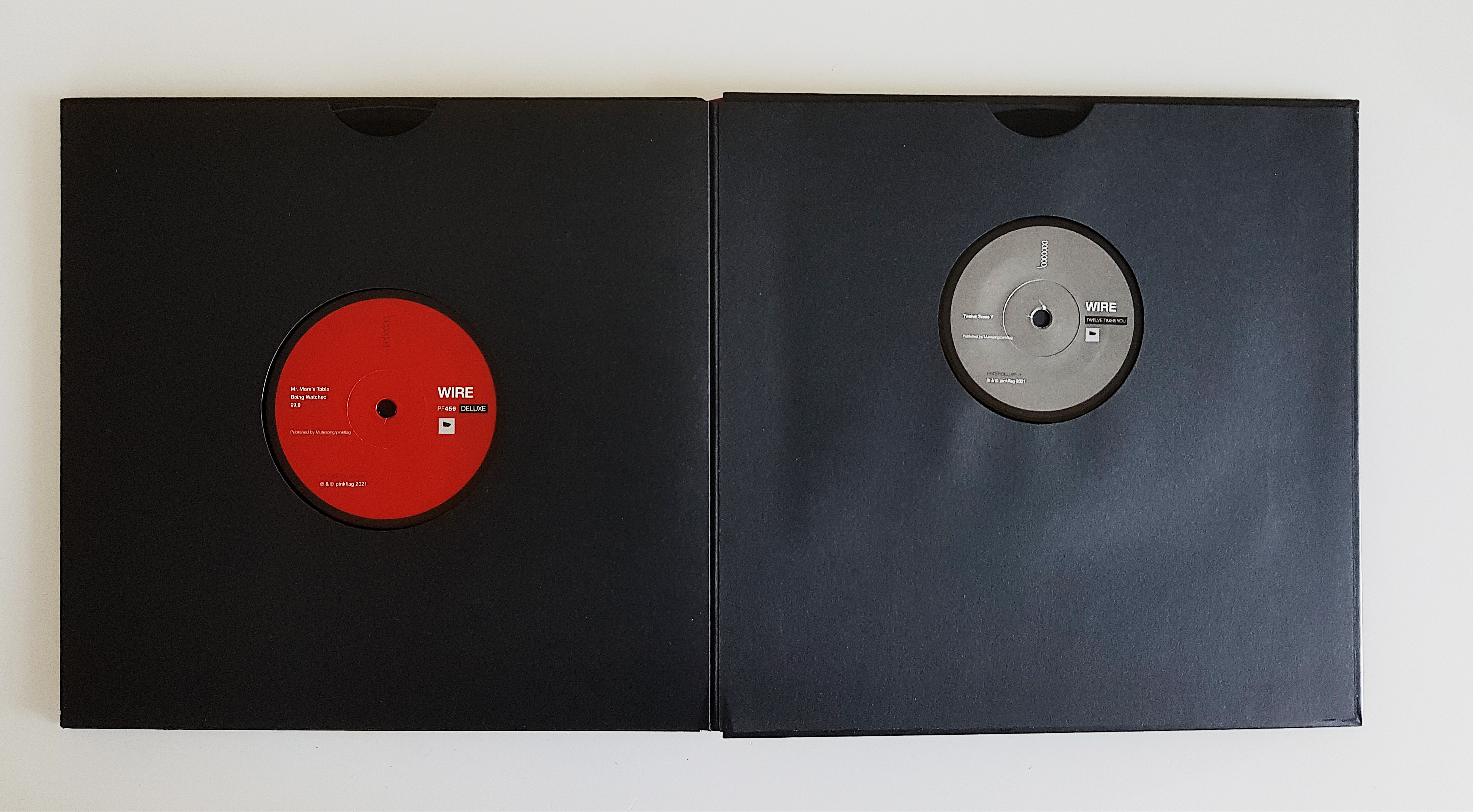 We don't have a huge number of these, so expect stocks to run out quickly unless you all bought it at RSD...
Here's the press release in case you are windering what all this is about..

This vinyl release comprises 2x10" singles + 1x7" single housed in a hardback book designed by Jon Wozencroft, including a 6000 word essay from writer Graham Duff, with new interviews with WIRE's Bruce Gilbert, Colin Newman, Robert Grey and Graham Lewis, as well as complete lyrics and recording details, plus many previously unpublished photographs.
WIRE are one of Britain's most influential and prolific groups. Indeed, they have a good claim to be the very first post-punk band. In the late 1970s they produced a trio of acclaimed albums that influenced the next generation, including Henry Rollins and REM. During a second period of operation in the 1980s, WIRE experimented with what a pop band might sound like in a parallel universe. This went on to influence the next generation including Blur and Massive Attack.
When WIRE reconvened for a third time in the early years of the 21st century, they did so once again with a clean slate. Their new music was harsh and jagged: a sound that welded together huge guitars, bass and drums, scuzzy electro loops and yet more guitars.
The first of WIRE's new material to see the light of day was a 7" single: 'Twelve Times You'. This hyperactive reimagining of one of the group's most iconic songs - '12XU' - was done, as Newman puts it: "To see what it would sound like if Fat Boy Slim made punk rock records." It also paved the way for the group's new recording method: assembling rock records in the same manner as techno or breakbeat records...
The next stage came in June 2002, with the release of the Read & Burn 1 EP. That a group of Wire's seniority was capable of producing such tough and vital work proved a revelation to some. This was followed by Read & Burn 2 and the album Send. Each release received near universal acclaim...
"One of the best things they've ever done." - BBC Music
"Sounds fresher than the pop punk currently being generated by pups half their age." - Rolling Stone
"A phenomenal album." - Mojo

Now, for the very first time on vinyl, here are all the tracks that make up one of WIRE's career high points.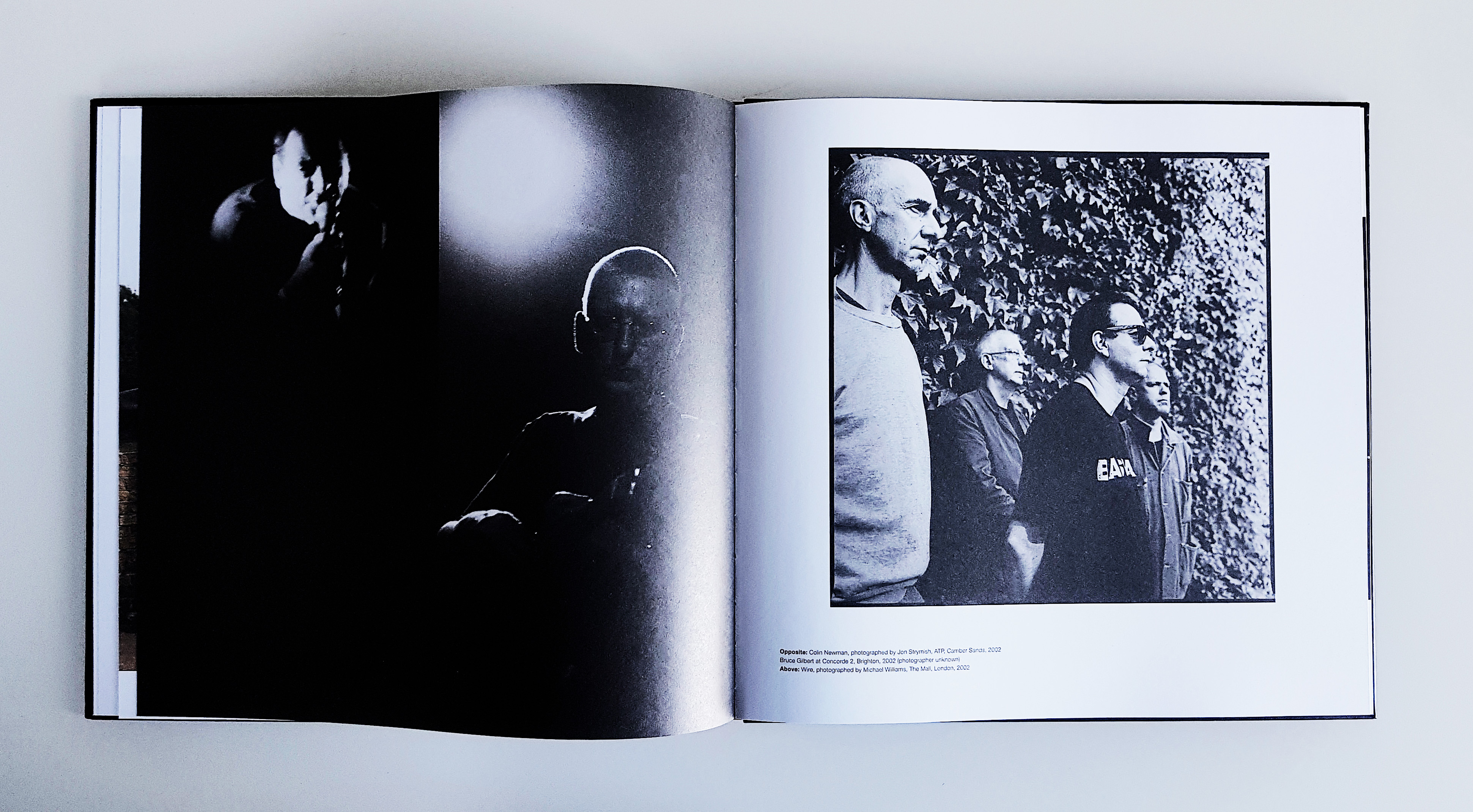 PF456 DELUXE Some highlights...
In the Art of Stopping Simple, serrated and mercilessly repetitive, it's hard to imagine how this particular song could be reduced any further. There's no chorus, no middle eight, no solo: just that riff!
I Don't Understand Riding out on scything guitar strokes with a barked vocal, 'I Don't Understand' is a strident and aggressive beast. Oddly, it would be used as the music for a 2007 TV commercial for the lingerie company Victoria's Secret!
1st Fast Every second operates as a dramatic sttement of intent, with its text, offering a partial manifesto: Able missives, rich deciduous, Coppiced riff meets aphorism. Whilst the lines Who's the bastard? Where's the pay-off? are about as punk as Wire get.
99.9 Perhaps the most blatantly electronic of the songs on offer. Everything is compressed, something that serves to reduced all sense of space, leading to a claustrophobic sound world that sucks in air and light.
PF456 DELUXE leans right into the darkness, and, as Bruce Gilbert's Wire swan song it's an uncompromising and decisive body of work and an essential document of a turning point in 21st century rock music.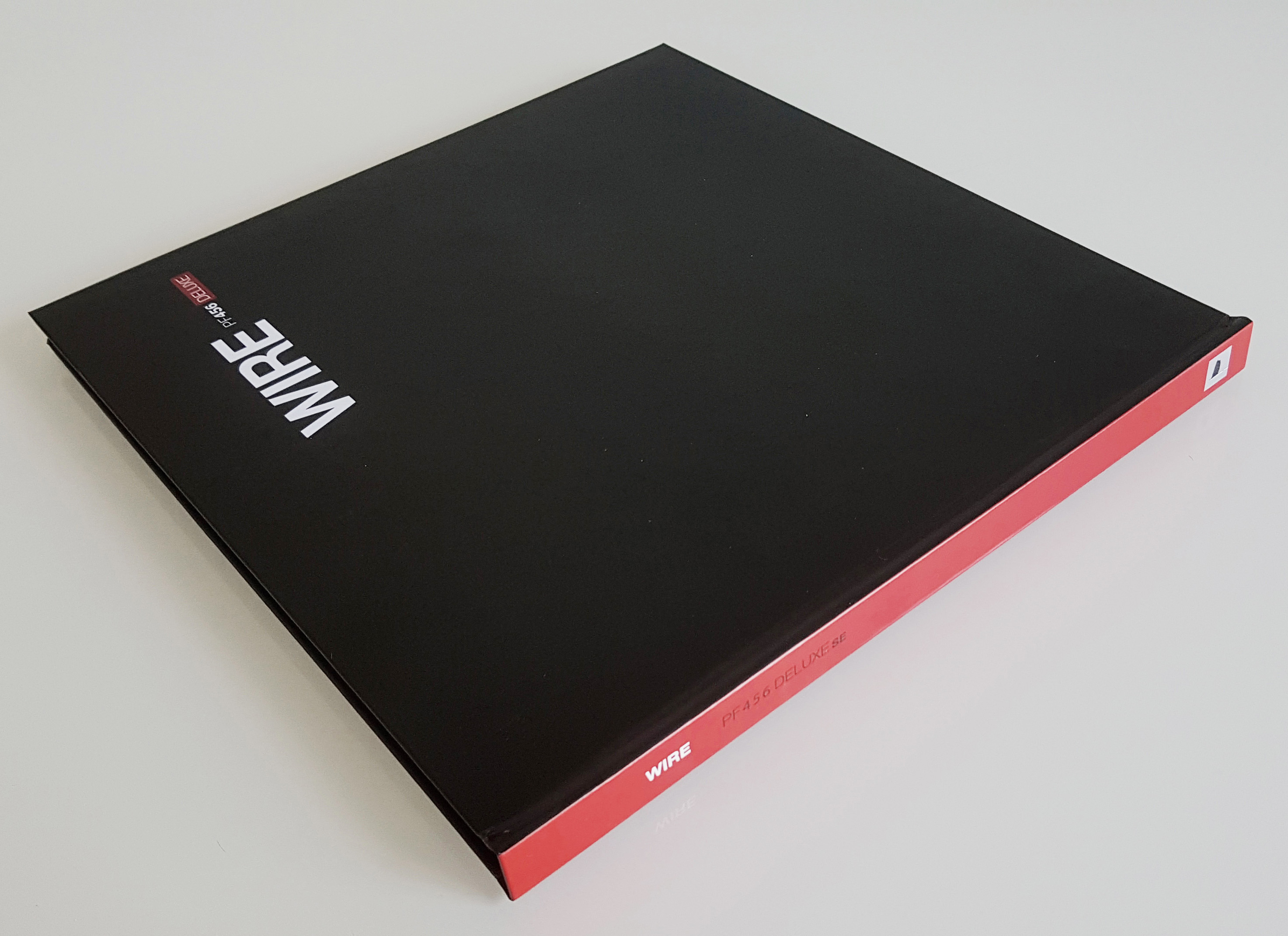 DELUXE Pack shots by Fergus Kelly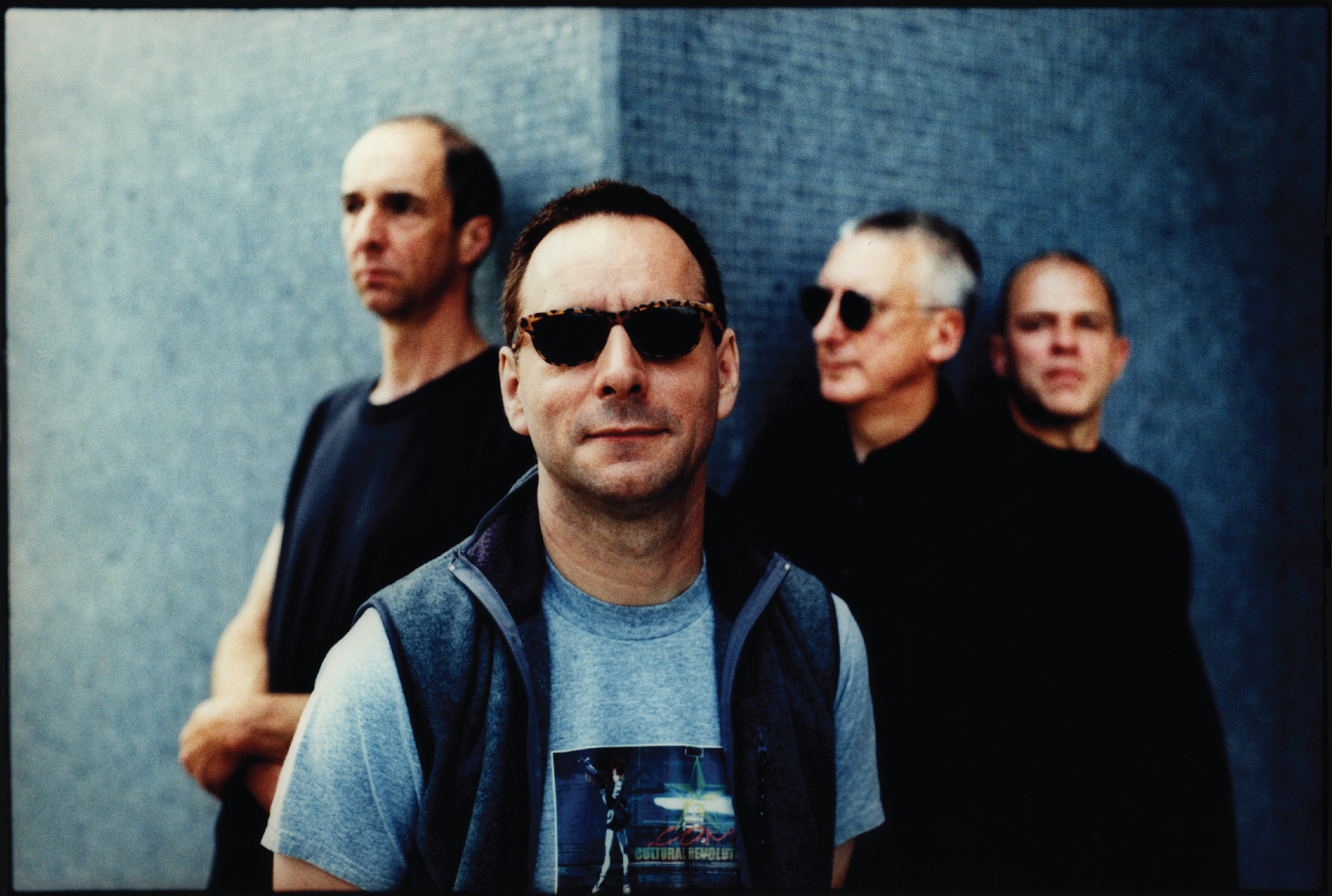 WIRE in 1999 by Stefan De Batselier

The Wire album Send (pf6) originally released in 2003 was in fact a compilation of material contained on the releases Read & Burn 01 (pf4), Read & Burn 02 (pf5) & new tracks. The original plan had in fact been to simply compile the 2 planned Read & Burns but the unforeseen runaway success of Read & Burn 01 meant that in spite of the "band merch only" status of Read & Burn 02 there would be too much duplication if that plan was to go ahead so an extra 4 tracks were made and some Read & Burn material was dropped in order to come up with an acceptable track list for Send.
Of course these releases were all CDs – no one thought too much about vinyl at that point.
However, there did need to be a vinyl release and as none of those tracks had ever been released on LP- a creative solution was sought that would accommodate all of the tracks contained in those 3 releases (which unhelpfully equals 1.5 standard 12" vinyl records). While 2021's solution was 2 X 10"s - 2003's solution was a set of fairly brutal edits and the resulting release became PF456 REDUX . A "does what it says on the tin" title which basically lists the catalogue numbers and the process by which they were squashed into a single 12". There was a limited run in 2003 and then the title was never re-pressed, living on as a digital product only.
The item remains, nonetheless a curio. Born as much of creative curiosity as necessity and as the full tracks have found their ultimate expression as PF456 DELUXE, an expanded version with a book, it is perhaps fitting that PF456REDUX now finds its new home as a limited CD release.
Stream here on Spotify

Original PF456 REDUX cover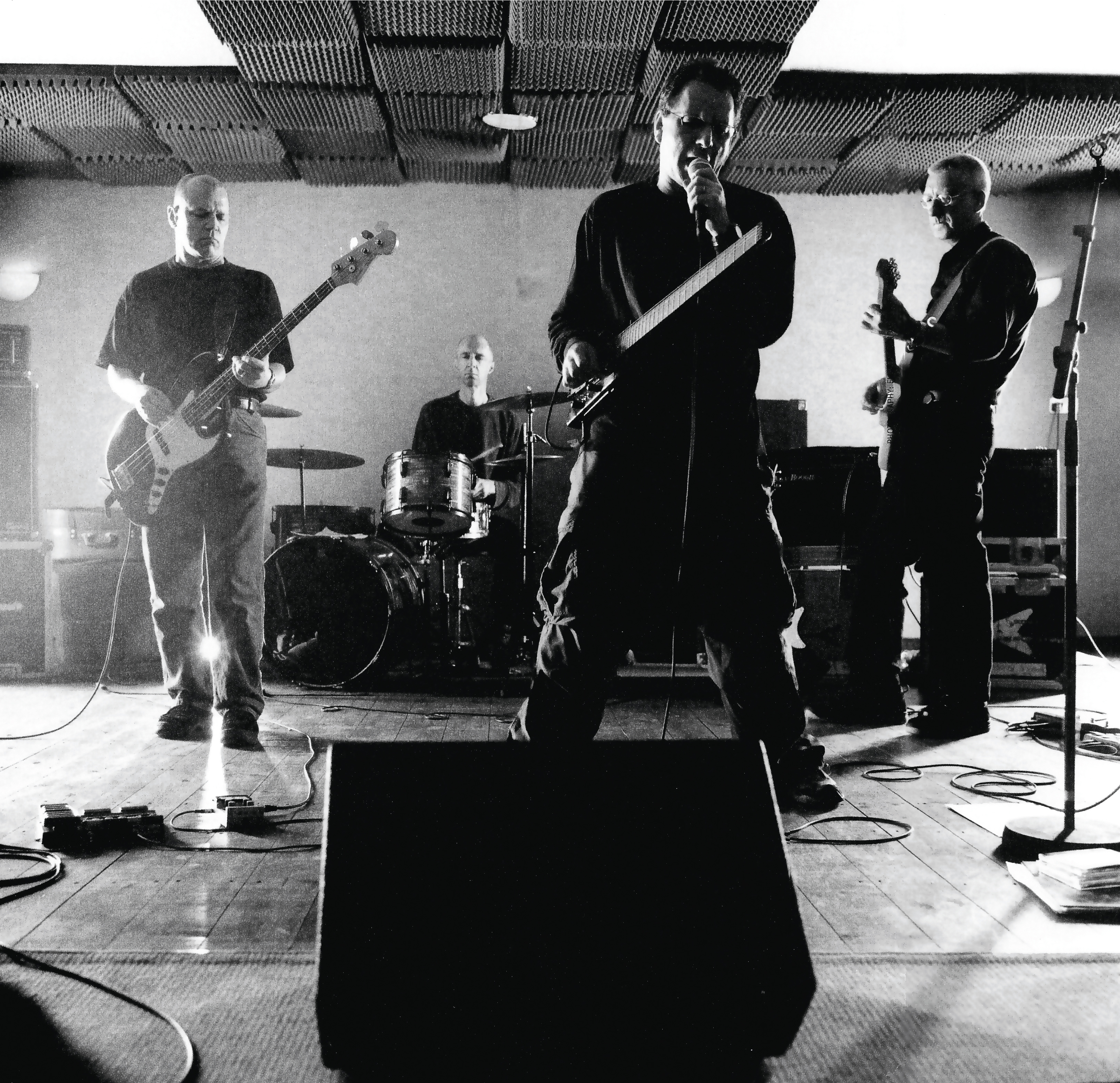 WIRE by Eddie Monsoon in 2002

If you've gone DELUXE & REDUX 2021 style why not complete the set with a t-shirt to match? A limited run covering Small to 4XL.
That's all for now ....