People In A Film
Today we are bringing the Wire documentary trailed in August 2018 a step closer..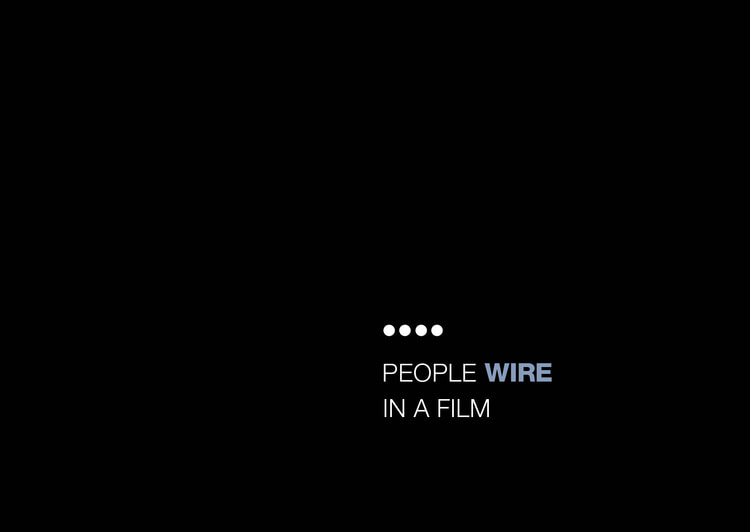 Text from - People In A Film Crowdfunder page
For the first time Wire are collaborating on a film about themselves and their work. This film aims to express the very essence of Wire – the personalities, their music, their worldview, their history and their future.
This is a film which will go beyond the over-familiar conventions of the standard music documentary. Wire are working with seasoned director and producer Malcolm Boyle and award winning writer and producer Graham Duff, to create a film that has the humour, the unpredictability, the surrealist edge and creative agility of a Wire song.

People In A Film - crowdfunding taster on Vimeo.
How To Get Involved
You can help make this documentary about this most unique and influential of British bands happen.
Initial shooting has already started, capturing Wire in the legendary Rockfield Studios recording a new album, as well as extensive in-depth interviews with Colin Newman, Graham Lewis, Robert Grey, Matt Simms and Bruce Gilbert. We've also shot footage of a special one off event which reunited Wire's original line-up.
We are now seeking supporters to help us complete the next stage of the film. We initially need financial support for the researching and sourcing of archive materials, as well shooting further interviews with key players in the Wire story. The budget for this is £60,000.
Once this next stage has been completed, we will then seek final funding from funding bodies and other sources to complete the final edit and dubbing theatre mix, and cover international music, still and film property clearances.
We are optimistic that this crowdfunding campaign will draw together the international community of Wire fans, music documentary viewers and lovers of music and cutting-edge culture who would be fascinated to see inside a group of artists who continue to leave such a distinctive mark on modern music and culture.
There are a range of donation options on offer. All and any help is welcome. If you're feeling generous, you can even have your name on the credits!
Donate today and bring People In A Film closer to completion via PEOPLE IN A FILM'S - CROWDFUNDER PAGE
People In A Film Launch Event
13th July - State 51's Factory Space on Rhoda Street in Shoreditch
Past and present members of the band will be there, along with film-makers Malcolm Boyle and Graham Duff. We'll be talking about Wire and the film, and showing early rushes to give you a taste. Admission is FREE but capacity is limited. Tickets availabe from WeGotTickets.
Facebook @peopleinafilm / Twitter @peopleinafilm / Instagram peopleinafilm / Film website www.wire-film.com / Crowdfunder site www.crowdfunder.co.uk/wirefilm / Dedicated film email account peopleinafilm@gmail.com
2020
As also mentioned in last August's newsletter and reiterated in Colin's Consequence of Sound Interview (ostensibly about the 40th Anniversary of "154") there will be a new Wire album in 2020. Most likely to be released in January. Recording is by now quite advanced for the as yet un-named album but anyone who has seen any of Wire's late 2018 gigs or any this year will have heard at least some of the songs. There are also plans for a 2nd release for RSD 2020. Watch this space!