Welcome to the Pinkflag mailing list, your chance to hear all the latest news from Wire!
AND FINALLY!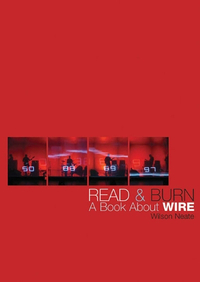 After what seems to have been an epic journey, the copies of the "Read & Burn" book finally hit State 51's offices this morning and are being despatched as we speak! This means all bundles of "Change Becomes Us" which included the book will be sent out over the next couple of days. Please be aware that this accounts for the majority of sales of the "special edition" to date and so there is a lot of packing going on in East London. However, some of those within easy postal range should be getting their packges tomorrow/Monday and the rest should start arriving during the course of next week.
Now we have stock, the book is also now availble as a seperate item from the Greedbag store.
++++++++++++++
NORTH AMERICAN WIRE TOUR - PLUS MORE LIVE DATES AND SESSIONS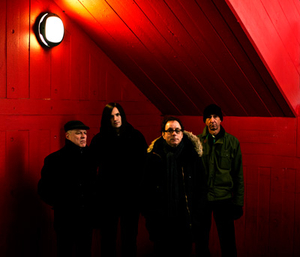 We are now able to announce some North American dates for July.
July 9: Museum of Contemporary Art, Detroit, USA
July 12: The Sinclair, Cambridge, Mass, USA
July 13: Union Transfer, Philadelphia, PA, USA
July 14: Black Cat, Washington, DC, USA
July 16: Bowery Ballroom, New York, NY, USA
July 17: Beachland Ballroom, Cleveland, OH, USA
July 19: Pitchfork Festival, Chicago, IL, USA
There are more dates to confirm but please note that this leg of the tour is for the East Coast & Midwest only. The plan is to come back to the West Coast in November; obviously, no dates for November can be shared at this time because we don't know any!
We are also announcing another date in London:
April 20th: Sister Ray Shop, London - Record Store Day Event
In theory this will be in Berwick Street in Soho outside the store, although if the weather is like today in London (snowing) it will be somewhat of a challenge. There are a bunch of other artists not yet announced. The best place to look for news is on the
Sister Ray Facebook page. Wire's set will be 30 minutes.
In May, the band will record sessions for Marc Riley at 6 Music and John Kennedy at XFM, both staunch supporters of "Change Becomes Us".
Wire will also be part of another London based event in late July, and so please keep checking the front of
pinkflag.com
for details. As previously announced, the rest of the touring plan for this year will be: Sept/Oct, Europe (incl. UK); Dec or Jan '14, Aus/NZ. It is also highly likely the band will be playing somewhere they have never played before in May!
++++++++++++++
POST : DRILL
Wire would like to thank everyone who has been part of our DRILL:LONDON Festival and everyone who came to the shows. The festival exceeded our most widely optimistic expectations and we have many new friends as a result! Special thanks are due to Luke of the Quietus, Matty from the Lexington and Jason, without whom…
With the album released, there are a mass of reviews available in publications and online as well as a lot of photos, video (and reviews) from Heaven, especially. We particularly like the photos on the Quietus and this video of the Pink Flag Guitar Orchestra.
In honor of the new album, pinkflag.com has now had a bit of a revamp with Facebook and Soundcloud integration on the front page as well as Matthew Simms getting his own page.
++++++++++
And finally…
This newsletter and the website are complimentary resources. To keep abreast of Wire and all its doings, we recommend checking Pinkflag.com regularly as well as being signed up to this mailing list.


All the best,


Pinkflag