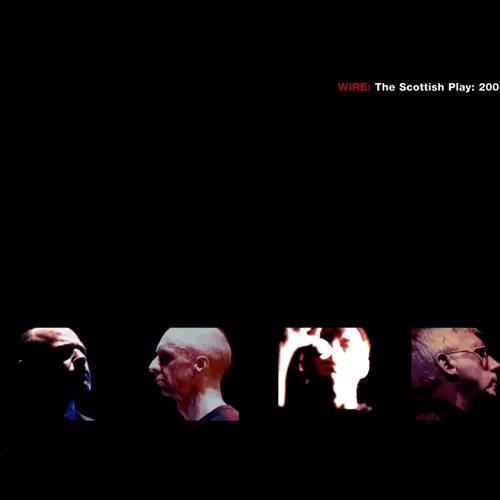 WIRE: The Scottish Play: 2004 DVD/CD
Available Formats
Tracks
Price
Buy
DVD-NTSC Boxed Set
14 tracks

£

9.99

Download Album (

MP3

)
14 tracks

£

8.00

Download Album (

FLAC

)
14 tracks

£

8.00
Description
Wire - WIRE: The Scottish Play: 2004 DVD/CD
A live DVD + CD document of contemporary WIRE.
April 2004 - WIRE play The Triptych Festival in Scotland (Edinburgh/Aberdeen/Glasgow).
Honed to a fine performance edge from their live forays to Europe earlier in the year, WIRE present their fierce, high-velocity set based around their highly successful album Send. Their first album in over a decade, Send marked a return to their trademark gimlet, shivved, short sharp shocked writing style.
Filmed by visual artist Tom Gidley in forensic detail, this document shows the complete visceral set and deliberately excludes the usual rock music celebration of place and time, instead
concentrating on giving the viewer the closest of contact with a band often misrepresented as enigmatic, cold and distant.
Also included is a bonus selection of pieces captured by Observation Camera #1 of the second half of WIRE's April 2003 Flag:Burning performance/installation at the Only Connect festival at The Barbican, London.
The set by avant stage designer Es Devlin was specifically commissioned by WIRE for this one-off performance.
Whilst based on the same body of work as the performance at Triptych, this is WIRE seen from the other end of the telescope, willingly surrendering their personal performance to the service of
the machinery of a unique, complex theatrical spectacle in a manner rarely allowed in the rock world rife with ego and self-aggrandisement.
The audio from this section is NOT featured on the accompanying CD.
THIS DVD IS NTSC - REGION FREE, BEFORE ORDERING PLEASE READ THE FOLLOWING
DVD NTSC & PAL/SECAM info
What you need to know is this
NTSC DVDs will play on 95% of DVD systems worldwide. PAL/SECAM DVDs will play on only very few DVD systems outside of countries that use PAL/SECAM systems.
It works like this, almost all DVD players sold in PAL/SECAM countries are multi-standard. This means they will play both PAL/SECAM and NTSC. Only very expensive systems actually convert between the formats, the multi-standard players instead partially convert the NTSC signal to output pseudo-PAL which is easily handled by most modern PAL/SECAM TVs. This works surprisingly well and most users have more problems over region coding (which is a separate issue) than NTSC/ PAL issues.
Pinkflag is making every attempt to make clear that although the vast majority of customers will be able to transparently use its DVD products there will be a small percentage who will not be able to enjoy them on their current equipment. For that reason we urge all potential customers to make sure that they are able to view NTSC DVD on their systems.
Pinkflag cannot be held responsible for any disappointment.
For more information please read a much fuller exposition on these issues at
DVD Demistified
Tracklisting
DVD-NTSC Boxed Set (PF8TVDVD)
99.9 ((live 2005))

Germ Ship ((live 2005))

Mr. Marx's Table ((live 2005))

1st Fast ((live 2005))

Read & Burn ((live 2005))

The Agfers of Kodack ((live 2005))

Comet ((live 2005))

In the Art of Stopping ((live 2005))

Spent ((live 2005))

I Don't Understand ((live 2005))

Strange ((live 2005))

106 Beats That ((live 2005))

Surgeon's Girl ((live 2005))

Pink Flag ((live 2005))
Download Album (PF8TV)