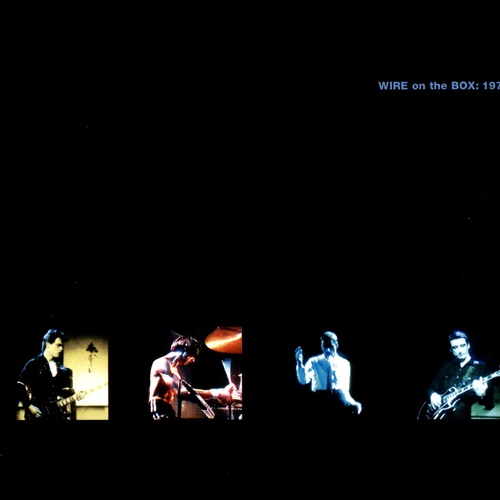 WIRE On The Box: 1979 DVD/CD
Available Formats
Tracks
Price
Buy
DVD-NTSC Boxed Set
20 tracks

£

9.99

Out of stock

Download Album (

MP3

)
20 tracks

£

8.00

Download Album (

FLAC

)
20 tracks

£

8.00
Description
Wire - WIRE On The Box: 1979 DVD/CD
PRESS RELEASE
Since the dawn of the video age rock bands of almost any note are liable to have every minutiae of their career documented. Videos, TV & radio appearances, broadcast concerts, embarrassing jams with Jools etc etc. However it was not always thus. Before the 80's, outside of the confines of the odd "Whistle Test" appearance it was very unusual to see any broadcast footage of bands, however influential and however much lauded by the music press, who had no chart track record. Thus it was with Wire. Beyond a few seconds of snatched performance and a micro interview on Tony Wilson's precursor to "So It Goes" and couple of mime alongs on Belgian TV there is no footage of 70's Wire beyond one item. Luckily that one item has been preserved.
Although British viewers never got to see a live performance of Wire on their TV's, one Brit abroad saw their tele-visual potential and got into a position to make it happen. Alan Bangs had the late night show on British Forces radio in Germany. Although his show was broadcast in English his mid 70's shows were increasingly crossing over to a young German audience eager for ear-food that their National broadcasters were not providing. With his impeccable German it also was inevitable that he himself would cross over to German speaking media so by early 1979 he had become a presenter of RockPalast an hour long studio concert slot on WDR which had already established itself as Germany's most important "serious" rock music show. Wire were old sparring partners of Alan, appearing on his radio show every time they were anywhere near Cologne and even hanging out with him at Düsseldorf's infamous "Rattingerhof" on the evening before the concert taping. So it was perhaps inevitable that Wire were one of the very few members of their musical generation that Alan managed to squeeze into the show.
Although 15th generation VHS copies of the screened parts of this performance have been doing the bootleg rounds for many years. This DVD is the first time that the complete performance and the never screened interview have been brought together. The combination of video digitally cloned from the broadcast master and freshly mastered audio give the item a directness and completeness that so eclipse the bootleg as to take it into another realm altogether.
Wire's RockPalast appearance, dated Valentine's day 1979, finds the band with a confidence born of a knowledge that their place in rock history is assured yet still possessing a freshness and willingness to push ahead as evinced by the fact that at least half the material is from the yet to be recorded 154. With the 20/20 hindsight the quality of this performance is such that it is able to simultaneously explode various Wire myths and perhaps create some new ones..
Wire have often described their 70's performances of being of variable quality, yet on this showing (and we have no others available to us) they execute their material with consummate skill, simultaneously exploding a second myth that Wire's sound was all created in the studio. Material from Wire's more technically accomplished Chairs Missing and 154 albums is immediately recognisable to anyone familiar with those releases and yes, that really is them playing it! Equally myth creating is the juxtaposition of the band against an audience of latter day German hippies who look vaguely bemused by the onstage goings on. Wire seem to be simultaneously from another planet and the future!
INFO
The release consists of a one hour live set and half hour interview from WDRs Rockpalast sourced directly from the broadcast master complemented by a newly mastered audio soundtrack and with an additional CD of the performance only.
THIS DVD IS NTSC - REGION FREE, BEFORE ORDERING PLEASE READ THE FOLLOWING
DVD NTSC & PAL/SECAM info
What you need to know is this
NTSC DVDs will play on 95% of DVD systems worldwide. PAL/SECAM DVDs will play on only very few DVD systems outside of countries that use PAL/SECAM systems.
It works like this, almost all DVD players sold in PAL/SECAM countries are multi-standard. This means they will play both PAL/SECAM and NTSC. Only very expensive systems actually convert between the formats, the multi-standard players instead partially convert the NTSC signal to output pseudo-PAL which is easily handled by most modern PAL/SECAM TVs. This works surprisingly well and most users have more problems over region coding (which is a separate issue) than NTSC/ PAL issues.
Pinkflag is making every attempt to make clear that although the vast majority of customers will be able to transparently use its DVD products there will be a small percentage who will not be able to enjoy them on their current equipment. For that reason we urge all potential customers to make sure that they are able to view NTSC DVD on their systems.
Pinkflag cannot be held responsible for any disappointment.
For more information please read a much fuller exposition on these issues at
DVD Demistified
Reviews
The Quietus
Pitchfork
Wireviews
Tracklisting
DVD-NTSC Boxed Set (PF7TVDVD)
Wire

- Introduction ((On the Box - live 1979))

Wire

- Another The letter ((On the Box - live 1979))

Wire

- The 15h ((On the Box - live 1979))

Wire

- Practice Makes Perfect ((On the Box - live 1979))

Wire

- Two People In A Room ((On the Box - live 1979))

Wire

- I Feel Mysterious Today ((On the Box - live 1979))

Wire

- Being Sucked In Again ((On the Box - live 1979))

Wire

- Once Is Enough ((On the Box - live 1979))

Wire

- Blessed State ((On the Box - live 1979))

Wire

- A Question of Degree ((On the Box - live 1979))

Wire

- Single KO ((On the Box - live 1979))

Wire

- Mercy ((On the Box - live 1979))

Wire

- 40 Versions ((On the Box - live 1979))

Wire

- Former Airline ((On the Box - live 1979))

Wire

- A Touching Display ((On the Box - live 1979))

Wire

- French Film Blurred ((On the Box - live 1979))

Wire

- Men 2nd ((On the Box - live 1979))

Wire

- Map Ref. 41°N 93°W ((On the Box - live 1979))

Wire

- Heartbeat ((On the Box - live 1979))

Wire

- Pink Flag ((On the Box - live 1979))
Download Album (PF7TV)