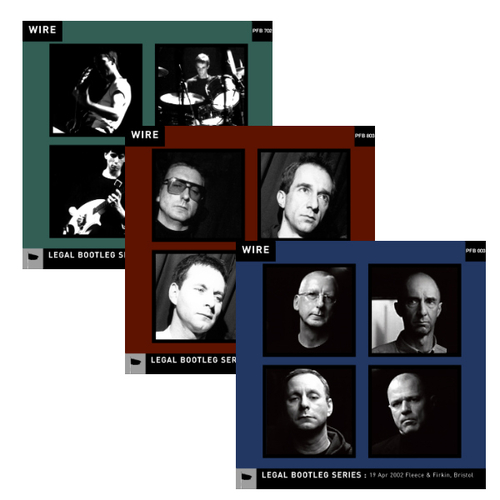 Releases 4-6 in Wire's "Legal Bootleg" Download series
| Format | Price | Buy |
| --- | --- | --- |
| Releases 4-6 in Wire's "Legal Bootleg" Download series | £24.99 | |
Description
Wire - Releases 4-6 in Wire's "Legal Bootleg" Download series
**Please be patient, you will receive your downloads as soon as your order has been processed, you will get downloads in both flac and mp3 formats, so you can choose to download whichever format you prefer **
After much deliberation pinkflag presents the 2nd batch in the 1st series of the "Legal Bootleg" series.
*Wire: 10 Nov 1979 Jeannetta Cochrane Theatre, London* - In the annals of Wire history the 4 nights at the Jeanetta Cochrane Theatre in London are legendary. Wire in both performance art & rock band modes in a striking, angular set designed by students at what was then theatre wing of The Central School of Arts (now part of the University of Arts, London). Had the band had the resources, this would have been a great gig to have recorded for posterity. However to our knowledge only one recording exists of the show (on the 11th) and it has been a labour of love to find the copy closest to the source of that recording. Frustratingly we have never been able to track down the original but we present a copy somewhat better than presented on "Turns & Strokes".
*Wire: 01 Dec 1987 The Town & Country, London* - The last show of Wire's most extensive year of touring during the 80's featuring material from "the ideal Copy" but also debuting much from from the yet to be recorded "A Bell is a Cup". Wire in transition to full 80's pomp!
*Wire: 19 Apr 2002 Fleece & Firkin, Bristol* - The warm up to the ATP headlining shows of 2002 this was the debut of whist was to become the "Send Set" played to much effect throughout the world over the following 2 years. The final form is however not reached as the show opens with a version of "DJ Fuckoff" on which every band member played guitar!
PLEASE NOTE THIS IS THE PAGE TO ORDER THE 2nd 3 IN THE WIRE "LEGAL BOOTLEG" SERIES. TO SUBSCRIBE TO THE FULL SET OF 9 DOWNLOADS + ONE EXCLUSIVE DVD YOU NEED THE
SERIES SUBSCRIPTION
.