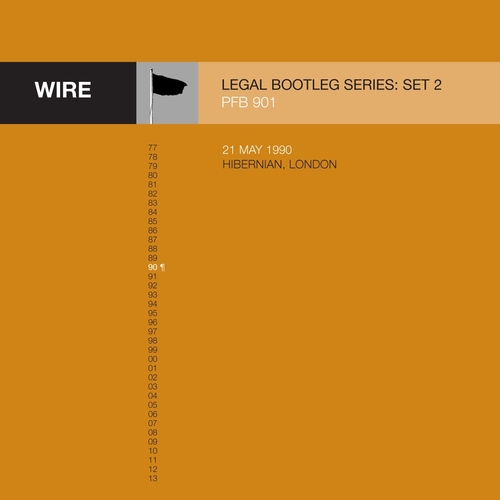 Releases 3-5 in Wire's "Legal Bootleg" Download Series 2
| Format | Price | Buy |
| --- | --- | --- |
| Releases 3-5 in Wire's "Legal Bootleg" Download Series 2 | £24.99 | |
Description
Wire - Releases 3-5 in Wire's "Legal Bootleg" Download Series 2
17th Feb 1978, West Runton Pavillion - (PFB 705)
01. Champs // 02. Ex-Lion Tamer // 03. Options R // 04. 106 Beats That // 05. Reuters // 06. Three Girl Rhumba // 07. I Am The Fly // 08. Oh No Not So // 09. Strange // 10. Brazil // 11. Culture Vultures // 12. Lowdown // 13. It's The Motive // 14. Practice Makes Perfect // 15. Mannequin // 16. Pink Flag // 17. Marooned // 18. Love Ain't Polite // 19. Sand In My Joints // 20. 12XU // 21. Too Late
Live recordings of any quality of this antiquity are pretty rare. This is only two months after "Pink Flag" was released and apart from "Live at The Roxy", which was professionally recorded, is the oldest live recording we know about. Two days ago it was 35 years old! The set is classic Wire, and it being so soon after the release of "Pink Flag" doesn't dim the band's enthusiasm for the new as ten of the 21 cuts were "new" at the time. From the point of view of the obscurist, this set is also interesting in that it contains the only known (so far) live versions of four songs that were only ever demoed but never officially released. Needless to say, given its antiquity, the recording quality is not stellar, but re-pitching and mastering of the original audio has improved it a lot.
12th June 1987, Maxwell's, Hoboken - (PFB 805)
01. Intro // 02. Silk Skin Paws // 03. Advantage in Height // 04. Come Back In Two Halves // 05. Cheeking Tongues // 06. Madman's Honey // 07. Ahead // 08. Kidney Bingos // 09. Over Theirs // 10. Still Shows // 11. A Serious of Snakes // 12. It's A Boy // 13. Ambitious // 14. Drill I // 15. A Vivid Riot Of Red // 16. Drill II
Another fascinating window into a different time. This was near the beginning of the first '80s tour of North America, during 1987. The gig was at the special request of the Ex Lion Tamers (this was their "home" venue) in a much smaller venue than Wire would normally play in the NYC area. The band is pretty tight and powerful and the audience pretty loud throughout! This gives a sense of intimacy not so present in recordings in larger clubs. In terms of the set, the band are already, in time honoured Wire fashion, debuting songs that would end up on "A Bell Is A Cup". The set also features a full-band version of "Still Shows" and two versions of "Drill"! A good recording that mastering has really brought to life..
21st May 1990, Hibernian, London - (PFB 901)
01. Patterns of Behaviour // 02. Kidney Bingos (Kidney / Buzz) // 03. Small Black Reptile // 04. Goodbye Ploy // 05. Sixth Sense // 06. Stampede // 07. You Hung Your Lights In The Trees // 08. Ahead // 09. What Do You See? // 10. Want To Drill You // 11. Advantage In Height // 12. Underwater Experiences // 13. Torch It
Although Robert had left the band by the time this gig took place, this is very much a Wire gig rather than a Wir gig. All the drums and percussion you hear were programmed by Robert and he had only quit a few days prior to this show. The seven shows that year were the only ever in which songs from "Manscape" were played live and the set also shows some witty re-invention: Eardrum Buzz and Kidney Bingos are mashed up into "Kidney / Buzz"; "Small Black Reptile" has the riff from "I Am The Fly" as its intro; "Ahead" turns into a kind of hip-hop; "Want To Drill You" (a precursor of "In Every City" from The Drill album) mashes up "12XU", "Drill" and an electro style baseline into something almost sexy; and "Advantage In Height" is strangely beautiful. Finally, "Underwater Experiences" was the song in which all the smoke in the smoke machine was put on the stage (you can hear it hissing out during the beginning of the song) and has an actual chorus (as opposed to just shouting).