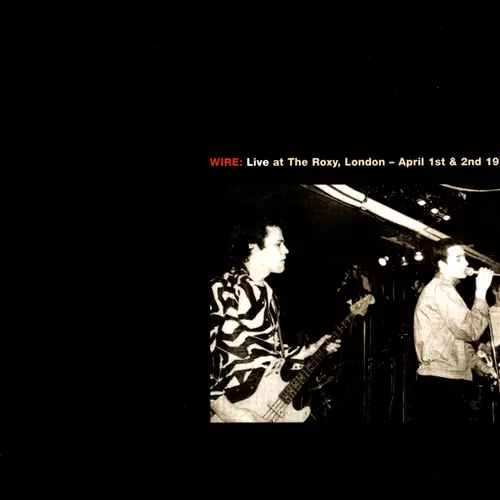 Live At The Roxy, London (1977) / Live At CBGB Theatre, New York (1978) 2CD
Available Formats
Tracks
Price
Buy
CD Double Album (70's live DBL )
46 tracks

£

15.00

Download Double Album (70's live DBL ) (

MP3

)
46 tracks

£

8.00

Download Double Album (70's live DBL ) (

FLAC

)
46 tracks

£

8.00
Description
Wire - Live At The Roxy, London (1977) / Live At CBGB Theatre, New York (1978) 2CD
It has long been an accepted part of pop/rock culture folk memory that Wire's 3 "seminal" 70's "EMI" albums wrote the book on the definition of art-pop/rock/punk (choice of 2nd element
depending on decade) and have influenced many a generation of the young and artistically ambitious of our culture. Yet for those too young or un-hip to have seen the band live in the 70's access to the band as a live entity has remained, until recently, the province of dodgy or long out of print bootlegs.

The situation has in part been rectified by the 2004 release of the WIRE: On The Box :1979 DVD chronicling the band a few months before the recording of 154. Now we have WIRE: Live at The Roxy (1977) and WIRE: Live at CBGB Theatre (1978)the former 5 months before the recording of
Pink Flag and the latter shortly before the recording of Chairs Missing. These 3 releases form an alternative trilogy in which we witness the debut of Wire's "classic" lineup (in essence the birth of Wire), catch the band on it's first American excursion and see as well as hear the maturity that would drive such superlative reviews for "154".

Previously only available as part of the super exclusive WIRE:1977-1979 box set, the live double album completes that alternative trilogy. As one canny bootlegger dubbed the experience – Take a Terrifying Trip to the Past......
Tracklisting
CD Double Album (70's live DBL ) (PF9-10CD)
The Commercial ((live 1st April 1977))

Mary Is A Dyke ((live 1st April 1977))

Too True ((live 1st April 1977))

Just Don't Care ((live 1st April 1977))

Strange ((live 1st April 1977))

Brazil ((live 1st April 1977))

It's So Obvious ((live 1st April 1977))

Three Girl Rhumba ((live 1st April 1977))

TV ((live 1st April 1977))

Straight Line ((live 1st April 1977))

Lowdown ((live 1st April 1977))

Feeling Called Love ((live 1st April 1977))

NYC ((live 1st April 1977))

After Midnight ((live 1st April 1977))

12XU ((live 1st April 1977))

Mr Suit ((live 1st April 1977))

Glad All Over ((live 1st April 1977))

The Commercial ((live 2nd April 1977))

Mary Is A Dyke ((live 2nd April 1977))

Too True ((live 2nd April 1977))

Just Don't Care ((live 2nd April 1977))

Strange ((live 2nd April 1977))

Brazil ((live 2nd April 1977))

It's So Obvious ((live 2nd April 1977))

Three Girl Rhumba ((live 2nd April 1977))

TV ((live 2nd April 1977))

Straight Line ((live 2nd April 1977))

Lowdown ((live 2nd April 1977))

Feeling Called Love ((live 2nd April 1977))

NYC ((live 2nd April 1977))

After Midnight ((live 2nd April 1977))

12XU ((live 2nd April 1977))

Glad All Over ((live 2nd April 1977))

Mr Suit ((live 2nd April 1977))

Men 2nd ((live July 18th 1978))

Reuters ((live July 18th 1978))

106 Beats That ((live July 18th 1978))

From The Nursery ((live July 18th 1978))

Dot Dash ((live July 18th 1978))

Another The Letter ((live July 18th 1978))

Practise Makes Perfect ((live July 18th 1978))

Marooned ((live July 18th 1978))

I Am The Fly ((live July 18th 1978))

Lowdown ((live July 18th 1978))

Mercy ((live July 18th 1978))

Outro ((live July 18th 1978))
Download Double Album (70's live DBL ) (PF9-10)