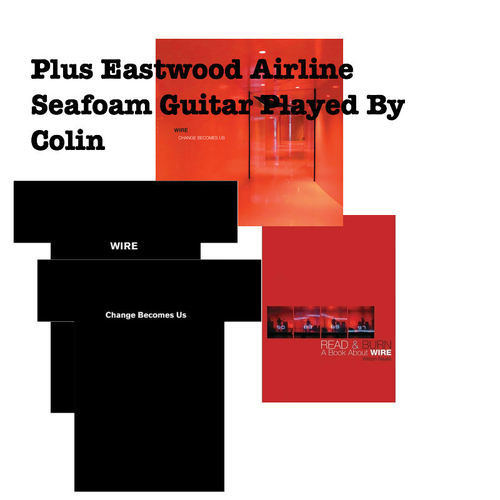 Guitar: Change Becomes Us Special Edition CD Album, Read & Burn Book & Teeshirt Bundle "Full Pack" + Eastwood Airline Guitar Played By Colin
Description
Wire - Guitar: Change Becomes Us Special Edition CD Album, Read & Burn Book & Teeshirt Bundle "Full Pack" + Eastwood Airline Guitar Played By Colin
This bundle contains the Special Edition CD, Read & Burn Book and Change Becomes Us Teeshirt + Eastwood Airline Seafoam Guitar played by Colin. Pick up in person!

All Pre-orders will receive the album digitally one week before release and will also go in the draw to be one of two of the "core fan" guitarists in the "Pink Flag Guitar Orchestra" for a special event in London on the eve of the album release.

Bundles including the teeshirt will be processed straight away so get your teeshirt immediately and your album upon release.

+++

Change Becomes Us Teeshirt is Gildan Heavy style. If you'd like a different size tee with this bundle, let us know, and we'll put it aside.

+++

Album Tracklisting:

01 Doubles & Trebles
02 Keep Exhaling
03 Adore Your Island
04 Re-Invent Your Second Wheel
05 Stealth Of A Stork
06 B/W Silence
07 Time Lock Fog
08 Magic Bullet
09 Eels Sang
10 Love Bends
11 As We Go
12 & Much Besides
13 Attractive Space

++++

Read & Burn Book Description

Over the course of this and last year another Wire related project has been gathering pace towards a March 2013 resolution. Wilson Neate, who wrote the acclaimed book on the subject of "Pink Flag" has been working on what has been described as "the first serious, in-depth appraisal of Wire" a book entitled "Read & Burn: A Book about Wire". Although he has extensively interviewed the band and many of the key players in the Wire story Wilson stresses this is not an "official" biography (we understand by that he implies "not sanitised") indeed he makes the point that "the musicians' perennially complex creative relationships" is very much part of the story. Expect "warts & all"! The book covers the entire history of the band and even has chapter in which the recording of "Change Becomes Us" is discussed.