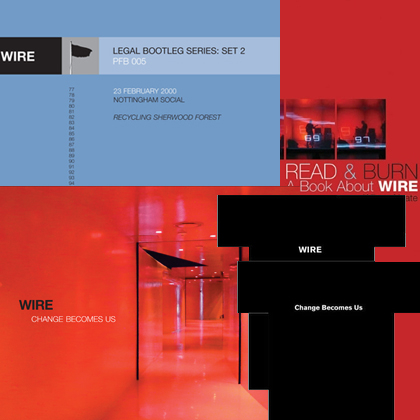 Change Becomes Us Special Edition CD Album, Read & Burn Book & Teeshirt Bundle + Legal Bootleg Series 2
Sorry, Change Becomes Us Special Edition CD Album, Read & Burn Book & Teeshirt Bundle + Legal Bootleg Series 2 is out of stock.
Description
Wire - Change Becomes Us Special Edition CD Album, Read & Burn Book & Teeshirt Bundle + Legal Bootleg Series 2
Album Release Date: 25th March 2013

This bundle contains the Special Edition CD, Read & Burn Book and Change Becomes Us Teeshirt + Legal Bootleg Series 2

The special edition of the "Change Becomes Us" CD is a glossy hard-backed book containing an intro by Wire, the story of the album written by Mike Barnes alongside extensive studio photos and the complete lyrics—plus, of course, the CD! There is an edition of 1000.

Your order will be processed straight away so get your teeshirt and whatever part of the Legal Bootleg Series, part 2 is available immediately and your album upon release.

+++

Teeshirt is Gildan Heavy style.

+++

Album Tracklisting:

01 Doubles & Trebles
02 Keep Exhaling
03 Adore Your Island
04 Re-Invent Your Second Wheel
05 Stealth Of A Stork
06 B/W Silence
07 Time Lock Fog
08 Magic Bullet
09 Eels Sang
10 Love Bends
11 As We Go
12 & Much Besides
13 Attractive Space

++++

Read & Burn Book Description

Over the course of this and last year another Wire related project has been gathering pace towards a March 2013 resolution. Wilson Neate, who wrote the acclaimed book on the subject of "Pink Flag" has been working on what has been described as "the first serious, in-depth appraisal of Wire" a book entitled "Read & Burn: A Book about Wire". Although he has extensively interviewed the band and many of the key players in the Wire story Wilson stresses this is not an "official" biography (we understand by that he implies "not sanitised") indeed he makes the point that "the musicians' perennially complex creative relationships" is very much part of the story. Expect "warts & all"! The book covers the entire history of the band and even has chapter in which the recording of "Change Becomes Us" is discussed.

++++

The Legal Bootleg series 1, which first became available in 2010, has proved to be a quietly popular hit amongst you. For those that don't know it, the series features selected live recordings from throughout Wire's history. The "masters", often sourced from the the original audience member who recorded it, are cleaned up (if needed) and mastered before being presented in a rolling digital series. These live recordings often show the band in a very different light to the studio recordings and are completist essentials!

The second series of 9 recordings which will include gigs from the 70's up to the present and will also encompass radio recordings. Included will be West Runton Pavillion (1978), Amsterdam - Roxy Music Tour (1979), Berlin (1979) Amsterdam (1987), Metropol, Vienna (1987), Mean Fiddler (1990), The Garage (2000), Scala (2008), German Tour (2009), European Tour (2011) and we are sure we'll find some more! In addition there will be two digital special items, available exclusively to those that order the complete series. One will be the unreleased "Recycling Sherwood Forest", a reimagining of Wire's 23rd Feb 2000 pre-RFH show at Nottingham Social, enhanced from the original 8-track recordings and existing in a space somewhere between a live and a studio recording. The other will be US radio sessions at KEXP & WFMU recorded during the North American April 2011 tour. We will provide more information in a later newsletter and hope to have the first set available before Christmas. You can also pre-order now as part of the "Change Becomes Us" bundles.

Series two will sent to you as soon as it becomes available.